Post by Doris McCraw writing as Angela Raines
I was talking with a friend the other day about the richness of the history that surrounds us here in Colorado, as well as other parts of this country. Not the major events, we all know those, but the stories of the smaller, yet important events. To that end, I'll be sharing history, the history that our stories are born from.
I started the series on another blog with 'Acting lessons for Writers' which you can read here. Acting Lessons for Writers
This post will cover the early days of what later became the state of Colorado.
One of the first things I learned about early Colorado was the conflict between General DeAnza and Cuerno Verde. Cuerno Verde had been harassing the settlers in far Southern Colorado near what is now the New Mexico border. In 1779 De Anza traveled up from New Mexico probably through South Park and down Ute Pass. He had running battles along the front range and eventually caught up with Cuerno Verde near the Greenhorn Mountains. Cuerno Verde died Sept. 3, 1779. You can find the marker along near Highway 166. For more on this story:
Photo from en.wikipedia.org

Of course, Colorado was also known for its Fur Trading Forts. The most famous and well known is Bent's Fort, which was located near the Arkansas River near La Junta, Colorado. The current building is a reconstruction of the second fort and well worth a trip to visit. (While there be sure to take in the museums and the Comanche Grasslands, including Picketwire Canyon where you can still see dinosaur footprints.) This is a rich and deep history of the early days of Colorado when the Mountain Men and businessmen such as the Bents, Vazquez, and Rubidoux made their mark on the development of the territory. For more information: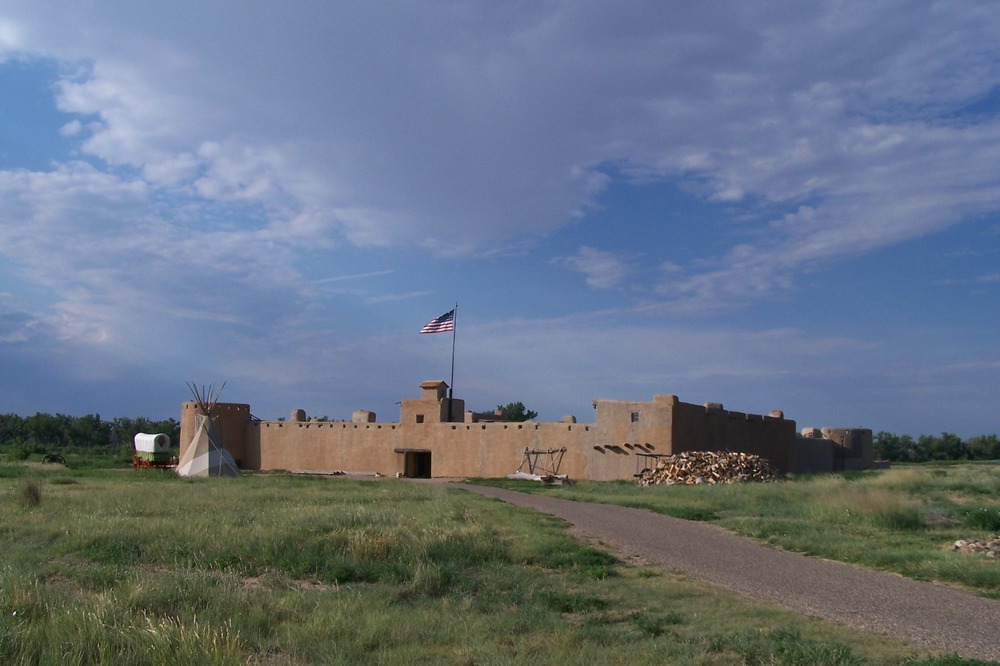 Photo from the National Park Service

Of course, no early history would be complete without the journey of Zebulon Pike, who traversed the central and southern part of the Front Range of Colorado. There is even a mountain that bears his name, although he never made it to the top. There is a reconstructed stockade about seventeen miles southeast of Alamosa on the Rio Conejos. You can also visit Pueblo, Colorado where Pike built another stockade during in 1806-07 expedition. An edited version of his diary is available for those who would like to read more.
by
Stephen Harding Hart
,
Archer Butler Hulbert
, et al.
by
Tim Blevins
,
Matt Mayberry
, et al.
From Colorado Encyclopedia.org

So for those of you who wish to learn more about the rich early history of Colorado here is a start. More lesson plans will be forthcoming.
The book "The Outlaw's Letter" contains later Colorado History. Here is just a small sample:
"I'd like to check the train schedule when we get into town," Hetty said. "Without Odysseus, train travel would probably be the safest way to head back to Kiowa Wells."
"Station's near the edge o' town," Clover added from the front seat.
"You know you can visit me any time," Hetty offered to Maude and Clover.
Maude gave Hetty a sad smile. Hetty knew Maude didn't think she'd be welcomed, but Hetty knew everyone would love the woman. Before Maude could reply, Hetty saw a new three-story brick building going up.
"What's that?" Hetty asked.
A passerby hearing the question, shouting the answer, pride in his voice, "That's the new school, and we have a military academy being built also."
"It looks beautiful," Hetty called back, "you have a right to be proud." Looking over at Maude, Hetty caught a look of want and sadness. It gave her an idea.
Author, Speaker, Historian-specializing in
Colorado and Women's History
Angela Raines - author:
Telling Stories

Where Love & History Meet